Description
sera Koi All Seasons Probiotic – With Bacillus subtilis for healthy, strong Koi
This innovative special food is suitable for feeding Koi above 15 cm (6 in.) at water temperatures above 8°C (46°F) throughout the year. Besides the functional ingredients close to nature, such as MOS, beta glucanes, Haematococcus, Spirulina etc., which already are a standard for sera, the co-extruded granulate contains the probiotic Bacillus subtilis which stabilizes the intestinal flora of the fish. This supports their health and improves food utilization. The Koi therefore grow quickly and evenly, become ill less frequently, and water pollution is reduced.
Koi All Seasons Probiotic is another groundbreaking innovation success by sera in the Koi feeding range. This excellent Koi food for the first time contains the intestinal flora stabilizer Bacillus subtilis, which is approved for ornamental fish since June 2016, and is expressly recommended by the EFSA (European authority for food safety) for use in ornamental fish food, as to improve growth and food utilization.
The optimized usability of the food lastingly supports the quick, even development and the health of the fish. The strengthened animals become ill considerably less frequently. Additionally, water pollution by ichthyotoxic and algae supporting waste products is considerably reduced.
The special food should replace the respective seasonal food at least several times weekly throughout the year [at water temperatures above 8°C (46°F)] as to benefit from these positive effects permanently. Of course it is also excellently suited as a staple diet.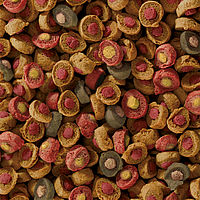 Recommended animal size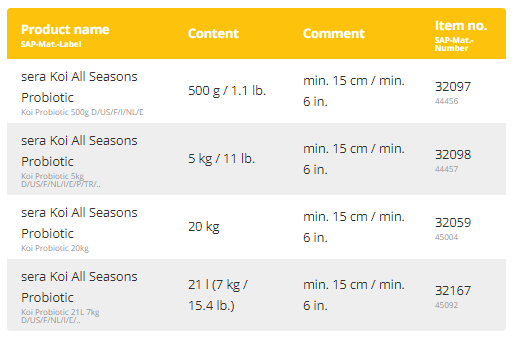 Product informations
Complete feed for all Koi
Feeding guide
Feed several times weekly, as much as the animals take up within a short time, and alternatingly with seasonal food, throughout the year.
Ingredients
fish meal, corn starch, wheat flour, wheat gluten, brewers yeast, wheat germ meal, Ca-caseinate, spirulina algae meal, fish oil (containing 49% omega fatty acids), mannan oligosaccharides (0.4%), krill, gammarus, green-lipped mussel meal, stinging nettle meal, lucerne meal (alfalfa), herbs, Haematococcus algae, parsley, sea algae meal, paprika, spinach meal, garlic, carrots.
Guaranteed analysis
Min. Crude Protein 36.7%, Min. Crude Fat 6.7%, Max. Crude Fiber 6.3%, Max. Moisture 6.7%, Max. Crude Ash 7.7%.
Additives
Vitamins and provitamins: Vit. A 16,800 IU/lb., Vit. D3 820 IU/lb., Vit. E (D, L-α-tocopheryl acetate) 54 IU/lb., Vit. B1 16 mg/lb., Vit. B2 41 mg/lb., Stabilized Vit. C (L-ascorbyl monophosphate) 250 mg/lb.
Gut flora stabilizer: 1×1010 CFU/kg 4b1820 Bacillus subtilis C-3102 (DSM 15544).