Description
For an extra energy portion at temperatures above 17°C (63°F)
Summer is growth time for Koi and other pond fish. Plenty of energy is required for this, which is obtained from high quality food.
sera KOI Professional Summer Food provides a balanced protein/fat ratio. Strong and healthy growth and optimal energy supply are the result.
The unique sera process of co-extrusion allows combining differently treated ingredients. The ring contains high quality proteins and fats according to the natural nutrition spectrum of the fish for optimal digestibility. The core consists, among others, of essential vitamins, minerals and trace elements for healthy growth and a strong immune system.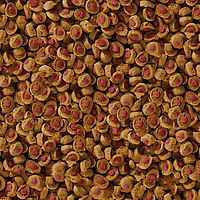 sera Koi Professional – the first co-extruded food for Koi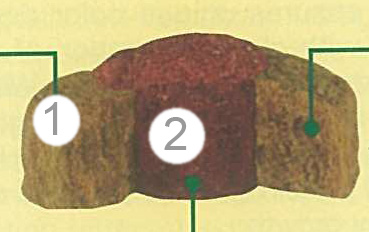 1. Ring
Food blend optimized for every season, for a nutrition according to the natural requirements of Koi.
2. Core
Contains the sera Vital Immue Protect Formula, manufactured in a prticularly gente low temperature process.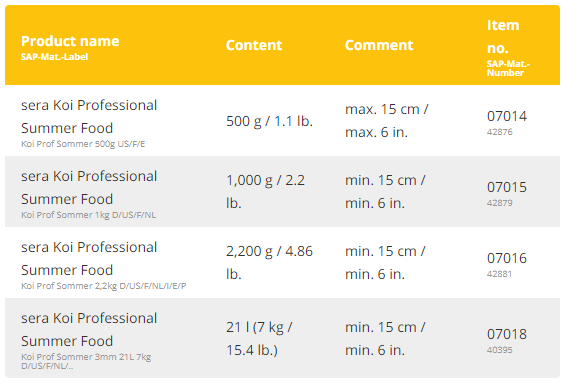 Product informations
Complete feed for all Koi
Feeding guide
Feed from 17°C (63°F) water temperature, but only as much as the fish can consume within a short time. Do not overfeed.
Ingredients
fish meal, corn starch, wheat flour, wheat gluten, brewers yeast, wheat germ meal, Ca-caseinate, fish oil, gammarus, mannan oligosaccharides (0.4%), krill, spirulina algae meal, green-lipped mussel meal, stinging nettle meal, herbs, lucerne meal (alfalfa), parsley, sea algae meal, paprika, spinach meal, Haematococcus algae, garlic, carrots.
Guaranteed analysis
Min. Crude Protein 36.2%, Min. Crude Fat 5.9%, Max. Crude Fiber 5.5%, Max. Moisture 5.4%, Max. Crude Ash 7.8%.
Additives
Vitamins and provitamins: Vit. A 16,800 IU/lb., Vit. D3 820 IU/lb., Vit. E (D, L-α-tocopheryl acetate) 54 IU/lb., Vit. B1 16 mg/lb., Vit. B2 41 mg/lb., Stabilized Vit. C (L-ascorbyl monophosphate) 250 mg/lb.
sera Koi All Seasons Probiotic